DANUBIUS HOTEL HELIA*****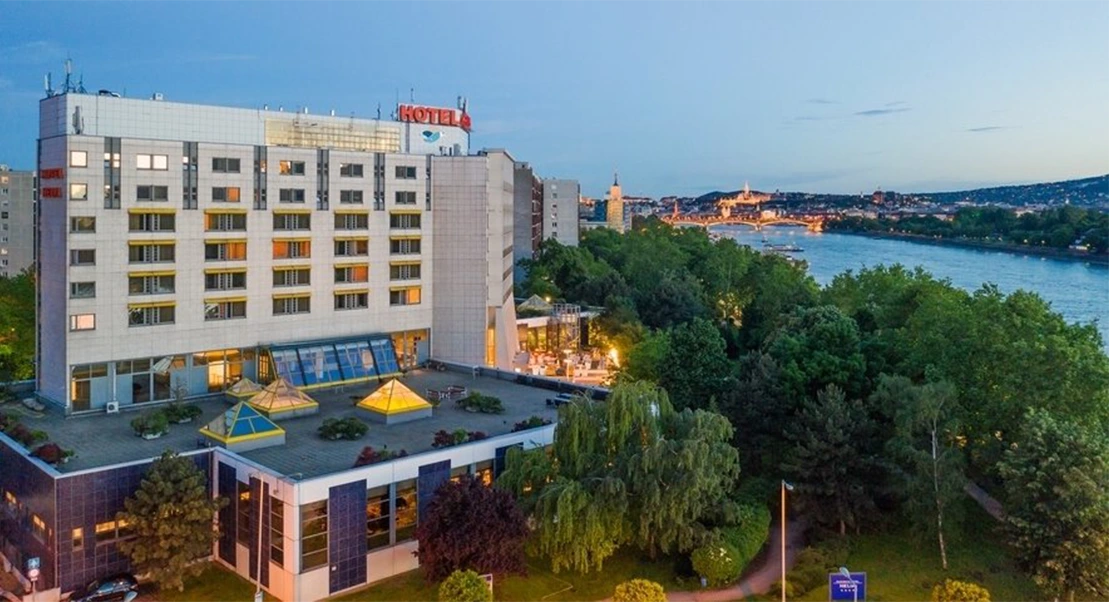 Please note that congress participants can make their room reservations individually through the Danubius Hotel Helia hotel's own online reservation system by clicking on the link below:
The Danubius Hotel Helia can be found right on the banks of the Danube River opposite Budapest's Margaret Island and offers you great fitness, spa and conference facilities.
Budapest's historic city center can be reached within 15 minutes from the Danubius Hotel Helia.
Choose from nicely furnished, nonsmoking rooms, most of them overlooking the Danube River, Budapest's Margaret Island and the Buda hills.
Plunge into the large pool and enjoy the breathtaking panorama from the 2-story fitness club!
There is a spacious car and bus park just outside the hotel.
Parking for hotel guests: 10 euro/ night / car.
Applicant Information
The room prices include the rich buffet breakfast, WiFi access throughout the hotel, use of the wellness department: fitness machines, swimming pool, Finnish sauna. Hotel rooms are available from 3:00 p.m. on the day of arrival until 10:00 a.m. on the day of travel.
GENERAL INFORMATION
Hungary, this small country is one of the oldest European countries, situated in Central Europe. It becomes easy for almost all European countries to get easy access. People can avail of flight, train, car and bus facilities to get to Hungary. This country is the birthplace of world-famous inventors, scientists, explorers, composers and sports stars.
Hungarians speak a language and form a culture unlike any other in the region: this distinctiveness has been both a source of pride and an obstacle for more than 1100 years.
Budapest is easy to access via Liszt Ferenc International Airport, which is continuously being enlarged and supplemented. Several daily flights are available to the Hungarian capital from all major European cities. As the capital of Hungary, Budapest serves the country's principal political, cultural, commercial, industrial, and transportation center and is considered an important hub in Central Europe. The city is attracting international meeting planners and delegates with its unique heritage and individual, cultural charm, as well as the professionalism of its hotels, convention facilities and visitor amenities.
Budapest — with the majestic Danube in the middle. Buda, with its romantic atmosphere on one side, and Pest, a dynamic cultural center on the other. One would have to be sharp to find another city in the world with such beautiful natural settings, rich architectural and historical heritage, offering an unparalleled combination of culture, fine cuisine and thermal baths.
CLIMATE OF BUDAPEST
The climate of Budapest is humid continental. Highs can stay above 20 °C until the end of October. Nights get colder and the first frost arrives usually in the second week of October. Short cool spells vary with the Indian Summer that can last for several weeks. November brings abundant rain, sometimes snow and a drastic fall in temperature (a 10 °C fall throughout the month).
CURRENCY
The official currency of Hungary is Hungarian Forint. (sign: Ft; code: HUF)
CREDIT CARDS
All major credit cards are normally accepted throughout Hungary and ATMs are widespread.
PHONE CALLS
The country code for international calls to Hungary is +36.
ELECTRICITY & TIME ZONE
220 V
Central European Time (CET)
PASSPORTS AND VISAS
Currently valid passport or identity card is required for foreign visitors travelling to Hungary.
Although visa requirements may vary from country to country, no visa is needed from almost all European Countries.
TRAVELLING TO HUNGARY & BUDAPEST
For more information on getting to Hungary, please visit the website: https://visithungary.com/
REACHING THE CITY CENTER FROM LISZT FERENC AIRPORT
Upon arrival, there are several options to get to the city. There is a bus line (200E) to the metro terminal, as well a direct service (100E) that travels right to the heart of the city at Deák tér. Tickets are available at vending machines, which have English language menus and accept card payments. The airport has a licensed taxi service run from a kiosk outside the arrival terminals, where you can order a car and a get a price estimate based on where you're heading. There is also a mini-bus shuttle service.
REACHING THE VENUE FROM LISZT FERENC AIRPORT
By taking bus Nr. 100E you may take off at Kálvin tér M station, where you may get on the blue metro Nr. 3 and travel to Dózsa György út M station. After taking off the metro you will reach the venue in a 10-minute walk.
LOCAL TRANSPORTATION IN BUDAPEST
Budapest has excellent and extensive public network coverage. Tickets and passes are available at vending machines installed in most busy locations – such as the airport – and transport hubs.
For more information please visit the following website: https://www.bkv.hu/en/
TAXI
We recommend the participants three taxi-companies in Budapest:
Fő Taxi: +36/1-222-2222
City Taxi: +36/1-111-1111
Taxi 2000: +36/1-2000-000
AIRPORT SHUTTLE SERVICE
miniBUD is the official airport shuttle service provider for Budapest Airport. It provides comfortable, fast and favorable transfer solutions for passengers wishing to travel from the airport to the districts of Budapest, and from the city to the airport.
miniBUD contact information:
E-mail: info@minibud.hu
Web: www.minibud.hu
miniBUD call center: +36 1 550 0000
PARKING FACILITIES IN BUDAPEST
Most European capitals are bustling towns, with heavy traffic, and motorists find it increasingly challenging to find a place to park their cars safely. Budapest is no exception. Below you will find useful information on how and where to park your car in Budapest.
Budapest is sectioned into several parking zones, and different hourly fees for parking area charged depending on which zone you park your car in (between HUF 175 and 440). Payment for the parking tickets can be made through vending machines all around the city.